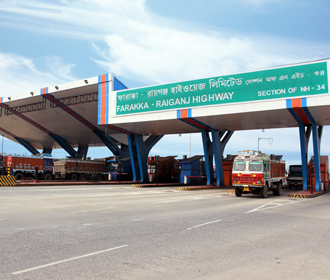 September 28, 2018: HCC Concessions Ltd (in which Company, through wholly owned subsidiary HCC Infrastructure Company Limited, holds 85.45%), executed a definitive agreement in respect of 100% stake sale of Farakka-Raiganj Highways Ltd (FRHL), its concessionaire subsidiary, to Cube Highways and Infrastructure II Pte. Ltd, an entity based in Singapore.
The agreement for sale has been executed on September 28, 2018. The expected date of completion of sale is anticipated on achieving the conditions precedent and other formalities for closure of transaction as per the definitive documents.
The deal comprises of an equity consideration of Rs. 372 crores for 100% equity stake (subject to requisite approvals) which will be subject to certain closing adjustments. Further, certain additional consideration may be paid based on contingencies such as completion of the balance section of the project highway, resolution of certain disputes with the NHAl and certain earn outs which, individually or in aggregate, may have a significant impact on the aforementioned consideration.
Cube Highways and Infrastructure II Pte. Ltd. is a Singapore based investment firm specialising in the infrastructure sector, with a focus on Road and Highway projects and transport sector in India.