News / Shri Narendra Modi dedicates Pare HEP to the nation
Shri Narendra Modi dedicates Pare HEP to the nation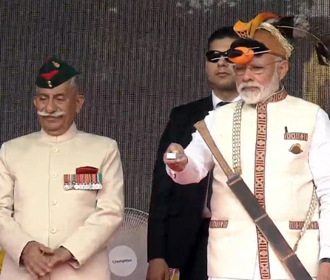 February 10, 2019: The Prime Minister of India, Shri Narendra Modi dedicated the Pare Hydro Power project in Arunachal Pradesh to the nation on February 10, 2019. The program was attended by the Chief Minister of Arunachal Pradesh Shri Pema Khandu, the Governor of Arunachal Pradesh Brig. (Dr) B D Mishra (Retd.), Union Minister of State for Home Affairs Mr Kiren Rijiju and Deputy Chief Minister of Arunachal Pradesh Mr Chowan Mein and other state dignitaries.
Located around 30 km from the National Highway 52A at Sopo Village, Doimukh, in the Papum Pare District of Arunachal Pradesh, the Pare hydropower project is a run-of-the-river scheme on the river Dikrong, a tributary of the river Brahmaputra. The geographical condition of the river makes it one of the most compact hydropower projects in India. The entire project from the dam to the powerhouse is set-up within a distance of 3 km. This compactness of the size makes it one of the most economical projects in the country.
North Eastern Electric Power Corporation had awarded the contract to HCC for construction of this project to harness the hydropower potential of the Dikrong river. The project has a capacity of 110 MW, consisting of two units of 55 MW each and will utilize the tailrace discharge of the Ranganadi - Stage I hydropower project. It is expected to generate 506.42 million units of power in a 90% dependable year.