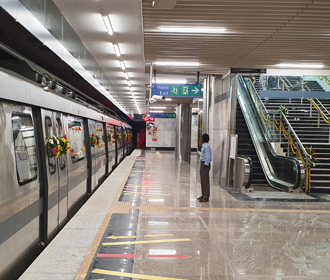 October 04, 2019: The 4.29 km long Dwarka-Najafgarh Corridor of Delhi Metro's Grey Line was formally flagged off on October 04, 2019. The corridor consists of three stations - Dwarka (interchange with Blue Line), Nangli and Najafgarh. The stretch was inaugurated by Union Minister Shri Hardeep Singh Puri, Delhi Chief Minister Shri Arvind Kejriwal and State Transport Minister Shri Kailash Gehlot at the Metro Bhawan. Passenger service on this section commenced on the same day at 5 pm and was inaugurated by State Minister Mr. Kailash Gehlot. The Grey Line is a standard-gauge section out of which 2.57 km is elevated and 1.5 km is underground section. The underground section was built by HCC. Earlier Commissioner of Metro Rail Safety Janak Kumar Garg, had inspected the corridor for safety on September 25, 2019 and had given the approvals for commencing the passenger operations.
Dumbbell shaped Metro station
The Najafgarh station is the first dumbbell shaped station on the network. It has been constructed in an extremely congested Delhi Gate intersection of the Najafgarh locality. Lack of space forced the Delhi Metro Rail Corporation to change the shape from regular-rectangular to dumbbell. The entry and exit points of the station had to be made in a crowded location in such a way that they would be easily accessible for the commuters. This has led to the final station box having expansions as well as contractions in its design at multiple locations giving it an unconventional shape. This has given a dumbbell shape to the station. However there has been no compromise made with the area required for passenger's movement. Rather, the length of Najafgarh station is 288 m as against the average metro station length of 200 m. Although, the area of the metro shrinks by a few metres in the middle, the platform length at Najafgarh is nearly 195 m, way more than average of 140 m.