News / Himachal Pradesh CM inaugurates Sainj HEP constructed by HCC
Himachal Pradesh CM inaugurates Sainj HEP constructed by HCC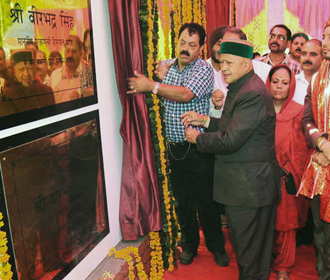 September 11, 2017: The Chief Minister of Himachal Pradesh, Shri Virbhadra Singh inaugurated the 100 MW Sainj Hydro Power Project constructed by HCC in Himachal Pradesh on September 11.
The project was awarded to HCC by the Himachal Pradesh Power Corporation (HPPCL) on EPC basis in August 2010.
The project was registered as 'Green Power Project' under the clean development mechanism and HPPCL was conferred with Greentech Environment Award-2015 for good environmental management at the Sainj Hydro Power Project.
The Sainj Hydro Power Project is located in Kullu district of Himachal Pradesh. It is the third project on the river Sainj which is a tributary of Beas River. This is the first project undertaken by HPPCL which will evacuate 400 KV power directly on the power grid network and 400 kV gas insulated switchgear. The power generation from this project will be fed into the northern region grid through 'loop in loop out' arrangement with other hydel power projects on river Sainj.
The impounding of water in the reservoir was started in the first week of March 2017, followed by testing of the hydraulic component consisting of a barrage, desilter, HRT, Surge Shaft and pressure shaft. The water was released for various tests conducted at the powerhouse. The first unit of 50 MW was commissioned on April 25, 2017, and the entire project was commissioned on September 11, 2017.