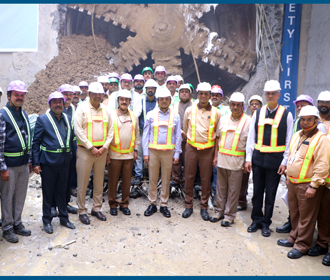 November 19, 2022: HCC's DC-06 contract package of DMRC achieved a major construction milestone in Phase 4 with the completion of the tunnelling work of Krishna Park Extension station.
HCC's Tunnel Boring Machine (TBM) broke through at the retrieval Shaft at Krishna Park Extension after boring a 1.4 km long tunnel twin tunnel in the presence of the Secretary, Ministry of Housing and Urban Affairs, Government of India & Chairman, DMRC Sh. Manoj Joshi, Managing Director, DMRC, Sh. Vikas Kumar, Project Manager DMRC-DC-06 Contract, Mr Prasdeep Kumar and other senior officials.
This tunnel breakthrough was achieved using a mammoth 69-meter-long TBM manufactured by Terratec. Two parallel circular tunnels for up and down movement have now been constructed on this stretch, which is part of a 2.026 km long underground Stretch from Janakpuri West to Krishna Park.
This new tunnel stretch is a continuation of the earlier Magenta line tunnel that HCC-Samsung JV already constructed currently operational Botanical Garden – Janakpuri West corridor. The tunnel has been constructed approximately at a depth of 14 to 16 meters. 2,008 rings have been installed in the tunnel. It has an inner diameter of 5.8 meters. The alignment of the tunnel runs along the Outer ring road and below multi-storied built-up structures of 1100nos.
The completion of this stretch is a significant achievement for HCC since this work faced repeated constraints due to the Covid – 19 pandemic. In addition, the tunnelling work involved innumerable challenges like shifting of sewer lines at a depth of 10 meters which was infringing tunnel alignment this utility diversion was completed using the micro tunnelling method which was implemented first time in DMRC by HCC.
70% of the project work completed to date and is expected to be handed over to DMRC by Dec-2023.