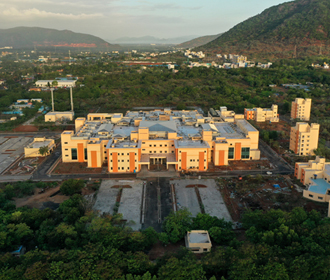 HCC has completed the works of Homi Bhabha Cancer Hospital & Research Centre and handed over to the client - Department of Atomic Energy (DAE), Andhra Pradesh, for operations on 31 January 2023. The 100-bed cancer care hospital and research centre has advanced treatment for 14 types of cancer and is built in the coastal city of Visakhapatnam in Andhra Pradesh. It is funded by the Government of India and the Tata Memorial Centre.
Homi Bhabha Cancer Hospital & Research Centre is supported by Bhabha Atomic Research Centre and Tata Memorial Centre. It was established in 2014. Located in Aganampudi, this institute covers an area of 77 acres. This super speciality Cancer Hospital comprises of main hospital block, radiology and radiotherapy centre, service/ utility block and residential facilities for the staff. HCC undertook the complete infrastructure development of 13 facilities including complete Electrical & Mechanical works, and after furnishing each of these facilities, they were put to use by the client. This is the first major cancer treatment centre in South India, and patients from Telangana, Andhra Pradesh and Orissa will benefit from it.
The hospital block consists of ground plus two floors, each with an area of 8,000 sqm. Adjacent to it is the radiotherapy block of the same configuration with a 3,500 sqm floor plate. Separate accommodation facilities have been arranged for doctors and nurses, each building having ground plus four storeys.
The hospital currently provides comprehensive and holistic care, with services in Medical Oncology, Paediatric Oncology, Radiation Oncology, Surgical Oncology, Critical Care and Anaesthesiology, Radio diagnosis, Palliative Medicine, Nursing, Pathology, Biochemistry, Microbiology, Psycho-oncology, Haemato-Oncology, Preventive Oncology, along with ancillary services like Medical Social Work (MSW) and Rehabilitation Services. This has helped to provide multi-disciplinary and multi-modality (including palliative care) comprehensive cancer care to every patient.