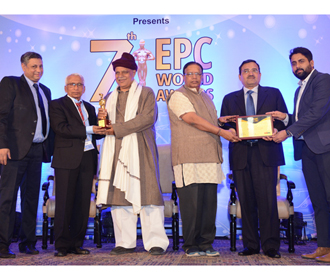 December 20, 2017: HCC's Sainj Hydro Power Project has been awarded the "Outstanding Contribution in Power Generation" at the 7th EPC World Award 2017 held on December 20, 2017, at Hotel "The Ashok, New Delhi. Mr. S. D Jeur, Sr. Vice President – Hydro Capability Development received the award on behalf of the Company in the presence of eminent stalwarts of the Infrastructure & Construction industry.
This is the third award bestowed to the Sainj Hydro Power Project. Earlier in the year, the project had bagged two more industry awards including the Construction Times Award for the best executed project and Dun & Bradstreet Infra Award for the best project in the power category.
Sainj Hydro Power project is a run-of-the-river development on Sainj river - a tributary of Beas river in Kullu district of Himachal Pradesh. HCC was responsible for planning, design & engineering, execution of civil & infrastructure works, as well as erection & commissioning of hydro-mechanical components.