News / Awards for Excellence in Toll Plaza Management
Awards for Excellence in Toll Plaza Management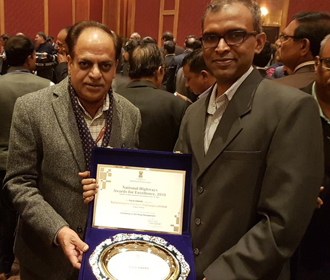 January 08, 2019: HCC was bestowed with three prestigious awards under the Excellence in Toll Plaza Management category at the first 'Annual Award for Excellence in National Highways', instituted by the Ministry of Road Transport and Highways (MoRTH), at Ashoka Hotel in New Delhi on January 08, 2019.
Baharampore Farakka Highways Limited received two awards - the Gold Award for its Shibpur Toll Plaza and Champions Award for its Chandermore Toll Plaza. Farakka Raiganj Highways Limited received the Champions Award for its Laxmipur Toll Plaza.
Toll Plazas have been equipped with state-of-the-art highway management systems such as CCTV surveillance, Variable Message Signboards (VMS) and Emergency Call Boxes (ECB). The Traffic Management System includes an Integrated ETC lane, Slow Speed Weigh in Motion (SSWIM) Scales and Static Weigh Bridges. The ETC lane enables road users to pay highway tolls electronically without stopping at the toll plazas. SSWIM scales are installed in all lanes that weigh vehicles at slow speeds. This has helped the company to charge an overload fee for the overweight vehicles.
More than 100 nominations were received from various projects under different categories of which 36 projects were shortlisted. The deserving winners were finalised by an experienced panel of experts and senior officials from the highway sector subsequent to multiple rounds of evaluation and site visits.